We provide a wide range of Roofing services to our customers.
Whether it be because your neighbor redid their roofing system, or you want to change the color of yours, or some problems have arisen that can no longer be ignored and the life of your shingles is up. Whatever your reason for replacing your roof is we want to be able to inform and show you products that will compliment your home. 
For our houses roofing to withstand the extreme climates we need to ensure your roof has proper ventilation and insulation installed. Our expert, highly trained crew can ensure to spot out when moisture, ventilation or insulation issues need to be addressed.
---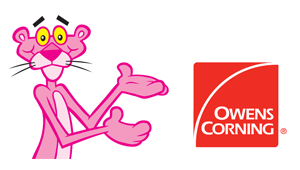 At Above the Rest Roofing we recommend the products Owens Corning's provide. Owens Corning offers lifetime warranties on their shingles, with additional details available through their website.
♦Breakthrough design  – Featuring a tough woven engineered reinforcing fabric to deliver consistent fastening during installation.
♦Triple Layer Protection™- Unique "triple layer" of reinforcement occurs when the fabric overlays the common bond of the shingle laminate layers that offers excellent fastener holding power.
♦Excellent Adhesive Power – Anhanced Tru-Bond® sealant grips tightly to the engineered fabric nailing strip
♦Adhesive Power- Specially formulated, wide adhesive bands help keep shingle layers laminated together.
♦Wind Resistance- Engineered to deliver 209 KM/H*/130MPH wind warranty performance with only 4 nails. 33% fewer nails are required for warranty protection which mean fewer deck penetrations.
---
GO GREEN!!!
We offer clean Roofing dumps. For absolutely no additional cost!
Upon request, we will keep all garbage and debris from your roof separated. We will collect and bag all of our bundle wrappers, plastic off the back of our ice and water shield and bag it up.
We will separate all metal and aluminium that can be used for scrap and recycled as well as separate any wood from our load when we do your roof.
This type of service should not be ignored!
---
Winter Roofing tune-up and eaves trough cleaning
Is your roofing system on your home winter ready? This specific service is available to you to prolong the life of your roof. It is useful if you have had your roof installed for more then 5 years and we highly recommend this proper roof maintenance. Maintenance is as important as replacing your roof and could add years to your existing roofing system.
Our winter roofing special for all of the below starts at $249.00 and up for roofs that are 2-3 stories or ones that are especially steep.
Winter tune ups include:
A complete inspection of your roof
Minor resealing around vents, skylights, chimney, exhaust fans, wall flashing
 Checking for any loose or missing shingles (additional cost for repairing)
 Inspect and reseal Nail pops
Snow and Ice Removal
Complete eaves trough cleaning
---
Re-Roofing
At some point your roof may need to be replaced whether it is because it is an old roof or it has been damaged the following are some obvious signs that you c
an look for to let you know that its time to call our company:
→Curled up shingles
Shingles that are curling up is an obvious sign that your roof system is aged and needs replacement, and also that you have excessive heat. Curled up shingles also make wind accessible in these areas causing shingles to blow off your roofing system.
→Blisters and Surface Cracks
Blistering is a sign of trapped moisture in your roof, and again poor ventilation.
---
Residential Roofing
We specialize in Asphalt shingles although we also provide you with services for steel roofs. We will make sure that your house is fully protected from any type of damage that can occur. There is nothing worse then a leaking or damaged roof. This damage can ruin your walls, ceilings and even your furniture inside your home.
We are confident that our crew will install a new roof to your home with the best quality workmanship and clean up you will be proud of!
We understand that this is a big decision to make and not all have the extra funding to allow them to replace their roof in full. Because of this, we offer financing programs to help save you from the damage that could occur and get the job done.
Our Residential Roof Services Include:
Roof replacements services.
Residential re-roofing.
New roof installation.
Shingle replacement.
---
Roofing Repairs
Don't let the minor repairs, create major problems for your home. Be sure to fix the blow-offs and leaks as soon as possible. In doing so it will insure further damage does not occur.
We can ensure our team will arrive prepared with all tools necessary to get the problem fixed.
In the event that we believe the problem has come to far and we feel your roof is beyond repair and a new roof is crucial, you will be informed immediately.
 If your decision after our expertise have advised you a complete re-roof is necessary to really fix your problem; you decide to hire us to do the job, we will remove the cost of our first initial visit for the repair.
Ideally, roof repairs services cover:
Missing shingles
Leaks
Installing, re-securing or sealing vents
Skylight leaks/issues
---
Our Innovative Program
Using today's newest and innovative technology, we can measure and estimate your roof using satellite imagery. If no satellite image is available, thats no problem! Someone can be out as soon as possible to take photos using our drone.
Not sure if you want to stay with the same color?
We are able to test different types of shingles and colors of shingles on your home from the comfort of our office, all we need is a picture of your home!
---
If you have any questions about our available options for services please give us a call and our knowledgeable team will be happy to inform you!